In a major victory for vegan travelers everywhere, Amtrak, America's national railroad, has agreed to add meat and dairy-free options to dining cars in its next round of menu changes.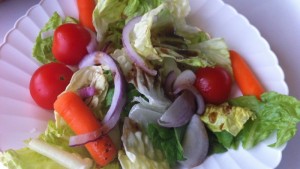 This major development was brought about by life coach and long-term vegan Maren Souders.
An avid train traveler, she was disappointed with Amtrak's vegan options. The choices were few, and required placing a special order a whopping 72 hours in advance.
After multiple negative experiences eating onboard (baked potatoes and side salads!), she launched a Change.org petition asking the transportation giant to add more vegan options.  The petition received more than 15,000 signatures.
Then, Souders reached out to the company and engaged in a positive discourse with some of the company's food and beverage leaders. She kept it calm, cool and unfailingly civil—and it paid off.
Souders reported on her blog this week that the campaign was successful: Amtrak's vegan options will soon be expanded.
"This new change means that the vegan meal options will now be carried on board the trains, same as the 'regular' meal options.  So, passengers will not have to plan in advance, and the chance of logistical problems getting the meals on board will be greatly reduced," explains Souders about the change.
Specifically, here's what Hall had to say about Amtrak's vegan options in an email to Souders,
As I outlined, our immediate plans to improve our vegan offerings are to introduce the Vegan Burger on our Long Distance Dining Menus in our next menu change. This has been a successful item in our lounge/café service and should transition well to the dining car. In addition our spring/summer dining car menu change will include an Entrée Salad that will allow the meat and cheese to be ordered separately which in turn will make the base salad vegan compliant and a much heartier portion than our current side salad. We will continue to search out new options for our dinner service offering. As I committed, we will be tasking several of our Amtrak Culinary Advisory Team (ACAT) members with developing vegan dinner options at our upcoming fall ideation session. Any new items designed in the course of that event will be introduced with our spring/summer 2016 dining car menu. As we discussed it would be extremely helpful if you were to forward me some of your suggested items which I will pass on to the culinary team. We will certainly be looking at how we can leverage the vegan offerings as "Healthy Options" as you suggested, the Healthy Option category that we currently offer has been favorably received and fairly successful.
This is huge news, as it demonstrates positive, effective collaboration between a major brand and consumers. In addition, it's one more way eating vegan is becoming easier, and that's a huge factor for those considering a cruelty-free lifestyle. The changes should be rolling out on Amtrak trains in the spring of 2016.
So what's Souders advice for others looking to petition companies and bring about change?
"Set a clear goal, think strategically, stay positive, and be persistent!"
She also advises taking the other party's needs and considerations into concern.
"This makes it more likely that they will agree to our requests, and also more likely that we can build a positive, collaborative relationship moving forward. For example, in this case, I did my research to know that Amtrak faces very tough financial and logistical constraints. So, rather than simply make demands that they add vegan meals, I offered to collaborate in any way possible, such as finding folks who could make menu suggestions or work with their Culinary Advisory Board. I asked others to also contact Amtrak in this same, respectful and collaborative way, and several people did. I believe that this approach is a big part of why decision makers at Amtrak were willing to talk with me, and agree to make the changes. These principles can be useful in any campaign, large or small."
In the end, thanks to this campaign, Amtrak's vegan options will expand and animal suffering will be reduced, one veggie burger at a time. Bravo to Souders, Amtrak and everyone who stepped up in the name of compassion.
Click here to read more about this story from Souder's blog: DreamIntoChange.com.