You'd be hard-pressed to find a dairy-free eater who doesn't miss certain indulgences: pizza, mozzarella sticks, cheesecake. These is the stuff vegan daydreams are made of.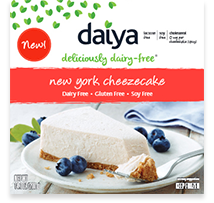 But thanks to Daiya, plant eaters have reason to rejoice. The non-dairy brand is making a pre-packaged vegan cheesecake, and it's starting to hit store shelves now (Whole Foods, first).
According to the Daiya blog, the "cheezecake" comes in New York-style (for the traditionalists), chocolate, key lime and strawberry.
Paired with the hashtag #saycheezecake, the new products are already getting plenty of buzz online. Facebook commenters had plenty to say, including:
Linda Davis Allen: NOOOOOOOOOOOOOOOOO I don't want that I will get fat!!! They sound delicious.
Melanie Paulina: I just said several curse words in excitement!!!!
MaryElizabeth Charlson: Omgoodness can't wait to get my hands on one of those….
Clearly everyone is eager to dig into a non-dairy version of the best dessert EVER. Vegan cheesecake is a niche we need filled.
As far as where (and when) to get it, Daiya says to keep an eye on the freezer section of your favorite Whole Foods–and they'll be rolling out to other retailers soon, too.
Click here to read more about the new products on the Daiya blog.