Gardein is nothing if not an innovator when it comes to meatless meats. From fishless fish to beefless burgers, they create alternatives that impress omnivores and herbivores alike.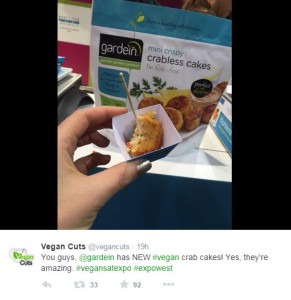 And in keeping with their commitment to the cutting edge, they've added two new types of "meat" to their lineup: Sweet and Sour Porkless Bites and Crabless Cakes, unveiled at Expo West this weekend.
A serving of three of the mini cakes includes 9g of protein and 32mg of Omega3 fatty acids, and the porkless bites have 11g of protein per serving, Gardein reports.
This is the company's first foray into both pork and crab alternatives, though they've already tackled beef, chicken, turkey and fish.
While the new additions aren't in stores—yet—they've gotten rave reviews via Twitter from @Vegan Cuts, @PlantBasedSolutions and @MercyforAnimals, all in attendance at Expo West.
Looks like the company is on a new product roll, as they recently released vegan Hot Pockets (aka Pocket Meals). Fishless Filets and Black Bean Sliders are also newer additions to their roster of meatless eats.
According to Gardein, the products will be hitting U.S. retailers in early May, so be on the lookout!