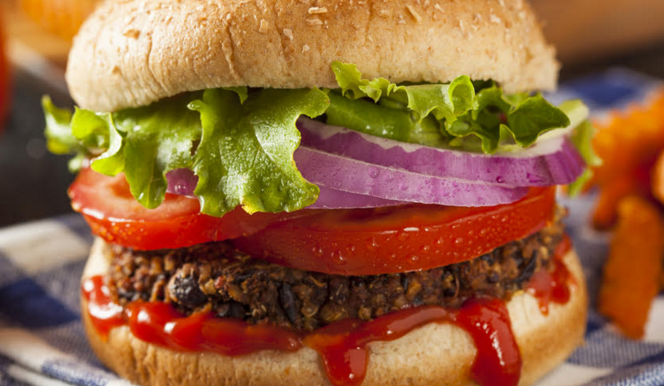 Modern-day meat production is unsustainable and unhealthy — not to mention inhumane. But in a country where McDonald's and Subway take up space in every strip mall, getting people to abandon animal products is a major challenge.
Enter the Good Food Institute (GFI), a groundbreaking new non-profit dedicated to finding better sources for familiar foods.
The group, run by renowned advocate Bruce Friedrich as executive director, is all about promoting a new paradigm for the consumption of meat, dairy, and eggs.  GFI is committed to supporting cutting-edge companies that are working to create plant-based and lab grown versions of traditional animal products.
"We are on the cusp of a revolution in how Americans eat," explains Friedrich. "We've seen plant-based alternatives to meat and dairy becoming more and more popular, far outpacing their animal-based counterparts, which are experiencing stagnating sales."
This is a market that's really just getting off the ground, so GFI is launching at an opportune time.
"Right now, there are just a few companies that are run by visionary founders, but these sectors would profit from many more companies accelerating this market space, so that when consumers go to the grocery store or go out to eat, they're thinking about eating plant-based meat, dairy, or eggs, and so that the cultured alternatives gain broad acceptance as quickly as possible. Basically, we have the ethical arguments, but we need to make eating in alignment with those understandings tastier, more convenient, and cheaper—that's our focus at GFI."
The plant and cultured meats movement is clearly gaining momentum in the mainstream, with companies like The Herbivorous Butcher, No Evil Foods, and Beyond Meat concocting astoundingly realistic meats from plant-based proteins; and tech groups like Memphis Meats (meatballs), Impossible Foods (hamburgers), and Gelzen (gelatin) redefining how meats are made.
GFI has a lengthy list of initiatives in the works, including hosting events at colleges and universities to attract scientists and entrepreneurs to the plant-based space; providing business, marketing, and regulatory support to food start-ups; and working to get more sustainable products into restaurants, retailers, and institutions. As part of its vision: " … we are reaching out aggressively to governments, the food industry, and nonprofit organizations, to encourage all of them to get involved in making plant and culture-based alternatives to animal agriculture tastier, cheaper, and more convenient," says Friedrich. "All of society has an interest in this vision, so all hands should be on deck working toward it."
In partnership with GFI is a new $25 million venture capital fund founded by Friedrich, New Crop Capital (NCC). NCC will invest exclusively in plant and culture-based alternatives, plus new tech that aims to make plant-based eating easier. Already, the group has invested in Memphis Meats, Lighter, the Purple Carrot, Lyrical Foods, and Beyond Meat, among others.
With everything at stake and so many positive developments, the future looks bright, says Friedrich.
"In 10 years, I expect that 15 percent or more of all meat, dairy, and egg consumption will be plant-based or cultured," he predicts. "That will have a dramatic positive effect on the health of consumers, the global poor, our climate, and animals — in fact, that will spare about 1.4 billion land animals and more than 2 billion sea animals every single year. This is the single-minded focus on GFI, to accelerate the cultured and plant-based sectors of the market, and that includes creating more companies that will replicate the success of Hampton Creek, Impossible Foods, and Beyond Meat."
THIS is the future of food: clean, kind, and cutting-edge.
For those who want to support GFI's efforts, the easiest way is to help it expand through charitable giving. The organization is currently working to meet a matching grant of $400,000. "Beyond that, we hope that people will go to our website to sign up for updates, will follow us on Facebook and Twitter, and will tell all your social media friends to do the same (you can share our page on your page and encourage follows)," says Friedrich. "In the next week or so, we'll have some job openings listed, so folks should look out for that and spread the word. Check out the resources pages on our website for other cool ways that you can join the Good Food revolution."
Follow Latest Vegan News on Facebook, on Twitter @LatestVeganNews, and Google+ , and sign up to receive our daily headlines in your inbox here.