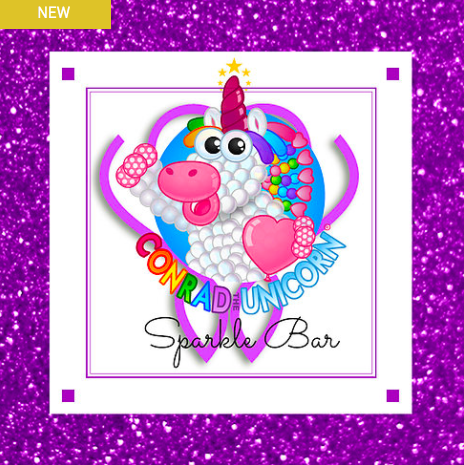 Unicorn-inspired edibles are all the rage right now, as Starbucks' recent frappuccino insanity revealed. But who needs impossible-to-find fraps when you can have a vegan unicorn chocolate sparkle bar?
The newly available dessert is made by Whaddayalove Chocolates, and it's for sale at the Spruce0132 store in LA and for mail order everywhere else. Officially named "The Conrad the Unicorn Sparkle Bar," the chocolate treat runs $5.95 and is made with –you guessed it — edible glitter.
"We created the Conrad the Unicorn Sparkle Bar after we met Conrad's creator Carolynn Hayman," says Whaddayalove Chocolate's founder Garrett Anderson. "Conrad is all about Love and Spreading joy and happiness, traits that Whaddyalove Chocolate values as well. Creating a sparkle bar as fun as Conrad and as delicious as our original bar just made sense."
All of the company's products are gluten-free, dairy-free, all natural and vegan, and are produced via the family's cacao plantation in Ecuador.  Whaddayalove also makes a classic chocolate bar with cacao nibs and a touch of salt, and each chocolate bar has an inspiring note tucked inside the packaging.
Follow Latest Vegan News on Facebook, on Instagram and Twitter (@LatestVeganNews), and sign up to receive our daily headlines in your inbox here.