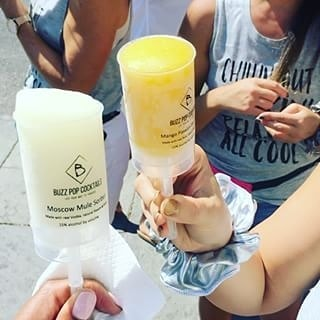 Remember push-up pops? Those suckers were legit. As a sugar-addicted kid I have fond memories of reaching into the freezer to see Fred Flintstone's goofy mug before I grabbed my fave dessert.
The good news for grown-ups is that push-up pops are back — and they've got alcohol. More alcohol than a glass of wine, in fact, so they're the perfect treat for summer parties. Oh, and they're all vegan.
The company that dreamed up this genius concept is called BuzzPops. Basically they're fruity sorbets made with 15% ABV  top shelf liquors — a frozen cocktail on a stick. And, under 100 calories, if you care about that kind of thing.
"The product is a chef-inspired gastro innovation with the goal to turn any signature cocktail into a five-star restaurant gourmet Italian sorbet," CEO Joseph Isaacs tells Some Vegan Girl. "It was developed by my son the chef who has been in the industry for the last 12 years in Las Vegas. We have a patent pending on the ability to freeze large volumes of alcohol."
Admittedly they're not cheap. They come in an eight-pack for $99 and can be shipped nationwide. Keep in mind — a cocktail at an upscale bar will run you $12 to $15, if that helps you overcome the sticker shock.
Mostly, though, the cocktails are not available at regular stores — they're served up at pool bars, banquets at major hotels, cruise lines, convention centers, sporting arenas and health spas. That includes in California at Legends Field and Catalina Island; in Vegas at the Mandarin Oriental, Fat Bar, 4 Seasons, Aria, Drais, Mandarin Oriental, Hilton Vacation Resorts and more — plus some places in Minnesota, South Carolina, Florida, and launching soon in New Orleans.
Flavors will change seasonally, and the current offerings include blueberry mojo, lemon drop martini, southern belle, pink paradise, Caribbean breeze, mango passion fruit, watermelon patch, and Moscow mule.
Follow Some Vegan Girl on YouTube, Facebook, Instagram, and Twitter for all things plant-based and pop culture.