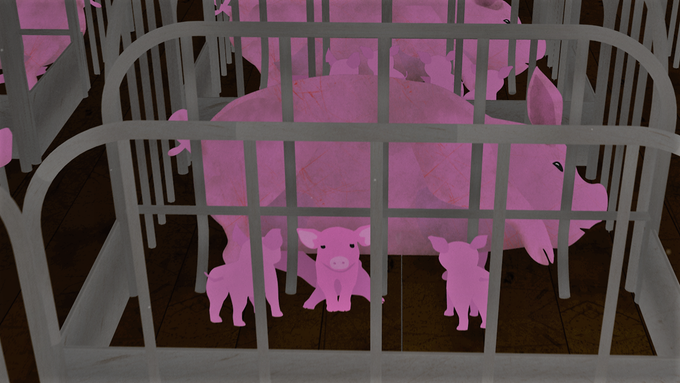 For the sake of the animals, the planet, and the human healthcare crisis, the world clearly needs more vegans. There's only one issue: how the hell do we make it happen?
A new nonprofit has stepped up with an answer. Better Eating International plans to popularize the movement and grow the number of vegans worldwide through highly targeted animated videos that'll be shown to millions of people.
"We created Better Eating because we knew it was time for the vegan movement to go past 'one size fits all' messaging," says Better Eating's strategic director Michael Webermann. "Food is so deeply personal for people that it's unrealistic to expect that a single presentation of veganism could speak to most. People from different cultures eat different foods; some people can more easily afford specialty items than others; not everyone has the time to prepare meals; and people's families and social circles don't all respond to dramatic changes in your diet the same way."
The charitable org is currently running an all-or-nothing Kickstarter campaign to raise $97,500. If the team reaches their goal by May 8th, the amount will be matched by a foundation. With those initial funds, the Better Eating team will create nearly 100 videos about animal agriculture and vegan eating.
"We're developing a stockpile of hundreds of 30-second animated PSAs that cover the various whys and hows of veganism from dozens of different angles, with considerations towards people's backgrounds, interests, age, location, and more," Webermann explains.
Better Eating's content will be inclusive, intersectional, and authentic. All efforts will be tracked, and the team plans to use tools to measure impact and tweak content strategy over time to insure it's consistently effective. As far as the video development process: "Our in-house creative team is capable of producing all the videos ourselves," says Webermann. "We have a graphic designer, an animator, a sound engineer, and a video production consultant. We will begin by creating our core messaging concepts, and then present those messages to our Community Advisory Panels with subtle appeals to their demographics. Once we have a pretty good idea of which angles are likely to be most persuasive, our Creative Team will get to work animating and preparing videos consistent with those messages."
Why animation? Because it gets past online ad censors and it can be more easily adjusted for new audiences. Once the videos are created, Better Eating will test a series to the non-vegan public and gauge response. That'll be followed by more tweaking (if necessary) and fundraising in order to get the series in front of millions of people.
As far as how the videos will be disseminated, Better Eating is taking its cues from recent successes in commercial marketing and politics. Segment targeting was the key to those victories, says Webermann. "For instance, the movement for marriage equality lost dozens of battles in the 90's and 2000's until it began a focus-tested campaign to appeal to people's values based on their age, location, political affiliation, religious background, and more. They found which messages resonated with which people, and began presenting those people with only the message suited for them. Suddenly in 2012 marriage equality won every ballot initiative, and by 2015 it was the national law of the land with support by the president and Supreme Court. This was no accident, it was the result of careful message tailoring, and Better Eating hopes to do the same for veganism."
The current Kickstarter campaign is just the beginning for Better Eating. The organization has plenty of ideas on how to affect change moving forward.
"We have lots of ideas of where this project could go in future years," says Webermann. "Developing apps that ask simple demographics questions, and then use their locations to offer the best vegan support content (shopping, local vegan community, etc.) for their area. Preparing school curricula so that the message and videos can be shown as part of current event and environmental science classes. Partnering with smaller vegan organizations across the U.S. to offer further regional support. And of course, expanding abroad by working with organizations already doing the work in those countries. For now though, we're focused on getting the start-up funds for the pilot project."
Better Eating's Kickstarter campaign is all-or-nothing, so the team needs immediate support in order to reach their goal. Visit the Kickstarter page in order to check out perks and donate!
Follow Latest Vegan News on Facebook, on Instagram and Twitter (@LatestVeganNews), and sign up to receive our daily headlines in your inbox here.