For fans of professional athletics, attending a game is as much about the food as it is about the action. Chili-topped hot dogs, cheese-smothered nachos, buttered popcorn—these classic foodstuffs are practically players on the team.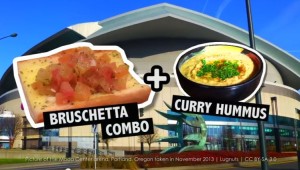 But this is 2015, and meat and dairy's winning streak is on the outs. These days, arenas and stadiums are rapidly adding veg-friendly options to their snack bars and restaurants. From veggie burgers to hummus to fruit topped with chili powder (seriously), sports fans can dig into a whole new world of edible delights—without priming themselves for a heart attack in the process.
To pay tribute to the arenas that are all about the plant-based edibles, PETA compiled a list of the top five vegetarian friendly NBA arenas, and enlisted basketball great John Salley to help them announce the news.
Included on the list are the Cleveland Cavaliers' Quicken Loans Arena, the Portland Trail Blazers' Moda Center, the Toronto Raptors' Air Canada Centre … and we'll let Salley tell you the rest.
PETA has also previously compiled lists of the top vegetarian friendly major league ballparks and NFL stadiums, giving top honors to Philadelphia Phillies' Citizens Bank Park and Philadelphia Eagles' Lincoln Financial Field, respectively (clearly Philly sports fans are into plant-based eats).
Any other vegetarian friendly NBA arenas or other sports stadiums you've been to? Comment below and let us know—because the people want their veggie dogs.