Sadly for all the stout-loving St. Patrick's Day revelers, Guinness isn't vegan. The ever-popular Irish beer is made using fish bladders (as part of the clarification process). Major bummer.
But just because Guinness is off the St. Paddy's Day menu doesn't mean partygoers have to opt out of alcohol altogether. It might take a trip to Total Wine or calls to a few local pubs, but getting your hands on cruelty-free options isn't that hard. There are plenty of choices in the beer world, and even vegan stouts, in particular.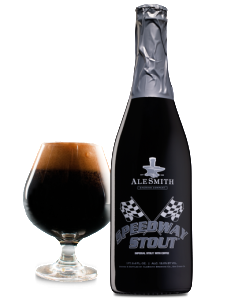 If you're going through Guinness withdrawal, here are six vegan stouts to try today or any day:
Millstream Brewing Co.'s Back Road Stout: Hailing from Iowa, this beer is described as thick-bodied, with coffee-like flavors and an oatmeal grist. 

AleSmith Brewing Company's Barrel-Aged Speedway Stout: Made with locally roasted coffee, this beer is described as having flavors of chocolate and roasted malts with hints of dark fruit, toffee, and caramel.

Anderson Valley Brewing's Barney Flats Oatmeal Stout: This California brewed beer is described as having rich, toffee flavors and aromas of freshly baked bread, espresso, and dried cherries.
Lagunitas' Imperial Stout: This popular California brewery's stout is described as rich, smoky and dark: "Just the way the 18th century Russian royalty liked it."
Sierra Nevada Brewing Company's Sierra Nevada Stout: Probably the easiest to find at local retailers (since this is a big-name brewery), this California brew is described as big, black and bold, with chocolate and caramel flavors.
Heavy Seas' Peg Leg Imperial Stout: This Maryland brewed beer is described as having an aroma of roasted coffee beans with a hint of chocolate, and a creamy consistency.
There are many more where these vegan stouts came from, too. Check out Barnivore for a list of all the vegan beer you could ever ask for.
Given all the options, it's clear that Guinness could ditch the fish bladders and still have a tasty brew. So Guinness, how about it? Make a vegan stout and save some lives?