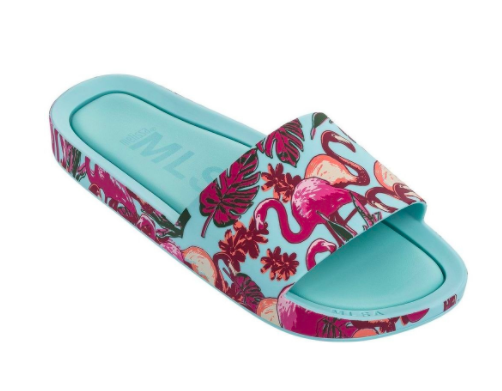 Vegan shoes that smell like bubblegum? You had me at first scent.
That's Melissa Shoes USA — a Brazilian company that's been blowing up in the U.S. with its insanely cute styles and recyclable materials.
So why do these uber-adorable vegan shoes smell like all things sweet and lovely? They're made with a special kind of PVC plastic. Call them the original jellies.
Here's what the company says about the aroma:
"Their unique smell is one of Melissa's hallmarks. It is a memory trigger: the mark of childhood and adult lives alike. It's part of teenage memory of those who grew up associating our shoes to a significant time in their lives."
The company has dozens of vegan shoe styles for men, women, and children, and they're all utterly unique. This spring, they're all about pastels, bright prints (unicorns!) and sparkles/glitter.
The brand got its start back in the 70s, and became a sensation in Brazil, collaborating with big names in art, design, and fashion to create totally unique kicks. Think Karl Lagerfeld, Britto, and Claudia Schiffer.
In just the last decade, Melissa produced more than 32 million pairs. The vegan shoes are now sold in 70 countries, so I'm not the only one obsessed with these creations.
Melissa also makes accessories like purses and fanny packs, including a just-released Mickey Mouse-eared gold bag. SWOON.
For kiddos, the company has a "mini Melissa"  line that's stocked with bows, Disney characters, flowers, glitter, and more.
One look at Melissa's Instagram page and you'll want every. single. style. Shipping is free, and shoe prices range from around $60 to $155 or more, depending on style.
Everything is available online, but if you prefer to shop in person, Melissa has eight locations across Florida, Nevada, California, and Puerto Rico.
Personally, the beach slides are a fave! Super comfy and in rainbow, flamingo, and unicorn prints … what vegan fashionista could ask for anything more?
Follow Some Vegan Girl's News on Facebook and Instagram for all things awesome.