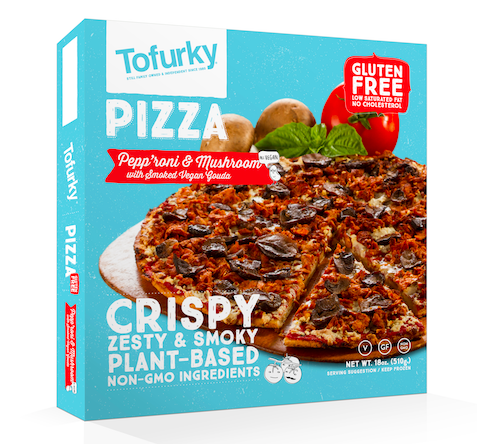 With 35 years of operation under its belt, Tofurky is a legend in the world of meatless eats. Founder Seth Tibbott launched the iconic brand back in 1980, long before "plant-based" was even a thing.
"He was really a pioneer in the meat alternative space," says Erin Ransom, marketing director for the Hood River, Ore., brand.
Initially, Tibbott started out by fermenting his own tempeh, and eventually moved into bigger and better products, including the company's world-famous holiday roast.
For a long time, Tibbott propelled the brand forward through his own charisma and powerful, positive vision. In recent years, however, the company has seen a lot of expansion, and everyone agreed it was time for a revamp. Under new CEO Jaime Athos (Tibbott's stepson and a vegan animal advocate), the company has rebranded and released 14 new products in the last year-and-a-half alone.
Among the new items are new gluten-free pizzas, frozen veggie burgers, five varieties of refrigerated "chicken," six sausages, and additional deli "meats," among other items. There's the Mighty Mushroom veggie burger; the Andouille artisan sausage; the Pepp'roni Mushroom pizza; the Ham and Cheese-style pocket — and many, many more. The company expanded existing lines and created entirely new product categories.
One look at the freezer section in any major supermarket, and it's clear just how far the company has come.
"We sell across the entire nation and we're also in Canada. We also have large distributions in the UK, Australia, and Germany," says Ransom.
And while lots of competitor companies have popped up in recent years, given the growing demand for plant-based alternatives, there's plenty of room for everyone. "A rising tide floats all ships," Ransom adds. "We're growing like gangbusters as I'm sure our competitors are, too."
Follow Latest Vegan News on Facebook, on Twitter @LatestVeganNews, and Google+ , and sign up to receive our daily headlines in your inbox here.