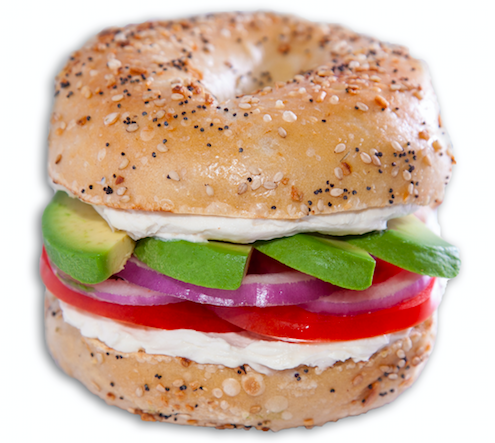 There's something magical about fast food breakfast. Maybe it's the limited hours of availability — or the fact that the menu items are so rich, so cheesy, so delicious. Either way, early morning runs to the McDonald's and Burger Kings of the world are something many vegans miss.
Thanks to San Diego's Plant Power Fast Food, however, an all vegan fast food breakfast menu is about to come into existence. Currently, the chain offers lunch and dinner, and it's on the cusp of revolutionizing meatless morning options. The new menu, which launches June 15th, has the following items:
Sausage Egg & Cheese Biscuit: Tofu "egg" patty, "sausage", cheddar cheese, and spinach in an organic English muffin.
$6.25
Breakfast Burrito: Cheesy tofu "egg" scramble, spinach, mushrooms, hash browns, guacamole.
$7.95
"Chicken" and Waffle Sandwich: Crispy breaded "chicken" breast smothered in maple-bacon aioli, in between two crispy waffles.
$7.95
Bagel with cream "cheese".
$3.25 (Gluten Free Bagel available +$1.95)
Bagel Supreme: Cream "cheese", tomato, avocado and onion.
$5.25 (Gluten Free Bagel available +$1.95)
Hash Browns: Two classic, crispy hash brown patties.
$3.25
Maple 'Sausage': Two crispy maple seared breakfast 'sausage' patties.
$3.50
Organic Coffee
Small 12 oz $2.25
Large 16 oz $2.50
Those amazing edibles will be available from 7 a.m. until 11:00 a.m. at Plant Power's first location: 2204 Sunset Cliffs Blvd., San Diego.  At 11 a.m. the entire Plant Power menu becomes available. Later in the month, the chain is also expanding its evening hours to 10 p.m. on Fridays and Saturdays, in order to accommodate a late dinner rush. (The location also recently opened a Sonic-style drive-up, so customers can even order without getting out of the car.) 
"We're excited about offering a healthy alternative to the traditional fast food breakfast for customers who would like to start their day with a delicious morning meal free of animal products, GMOs and artificial ingredients," says Plant Power Fast Food VP of Operations Zach Vouga.
If you're nowhere near Plant Power's first locale — have patience. The eatery has big expansion plans. An Encinitas, California, location is in the works for early 2017. There are plans to branch out into a regional chain over the next two years, and then — it's going national!
Follow Latest Vegan News on Facebook, on Twitter @LatestVeganNews, and Google+ , and sign up to receive our daily headlines in your inbox here.