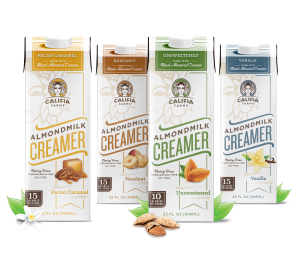 There's no shortage of dairy-free coffee creamers on the market, but most are heavy on the sugar and some rely on artificial flavors. For consumers looking for a cleaner addition to their morning joe, Califia Farms' new vegan half and half  has arrived.
Dubbed Better Half, the new creamer is made with coconut and almond cream — no dairy, soy, GMOs, gluten, trans-fat, carrageenan or excess sugar.
The vegan half and half comes in original and unsweetened (20 and 15 calories per serving, respectively), and is initially available only through Whole Foods. After the test period ends in summer 2016, it'll be available at other retailers nationwide.
"Our mission is to treat your coffee kindly, and with Better Half, folks can enjoy this delicious coconut and almond creamer, minus the excess sugars, artificial chemicals, and 'bad-for-you' hydrogenated oils found in traditional Half & Half products," says Califia's Kaitlin Barton. "Plus, in tune with the evolving health-conscious American palette that prefers less sugar, we wanted to provide an innovative option with an unsweetened version containing 0 grams of sugar. All in all, Better Half represents the ultimate upgrade in a category that has steadily ignored the needs of today's consumers."
The company also reformulated its line of Almondmilk Creamers, which also includes unsweetened options.
So when will you be able to find Better Half in coffee shops?
"Our foodservice sales team is currently introducing this product to coffee shops, restaurants, and universities, as well as our Barista Blend and other vegan Creamer products – we're revolutionizing the coffee experience one drink at a time."
Follow Latest Vegan News on Facebook, on Twitter @LatestVeganNews, and Google+ , and sign up to receive our daily headlines in your inbox here. 

Copyright secured by Digiprove © 2016 Hannah Sentenac