It's almost October, which means Pumpkin is EVERYWHERE. From doughnuts by Dunkin' to lattes at Starbucks to Trader Joe's entire store, the orange fruit is dominating flavor profiles, and will continue to do so for the next two months. For vegans though, the selection tends to be a little more limited.
Luckily, lots of brands are now introducing delicious, cruelty-free products suitable for herbivores and omnivores alike. On that note, here are five awesome vegan pumpkin foodstuffs to try this fall: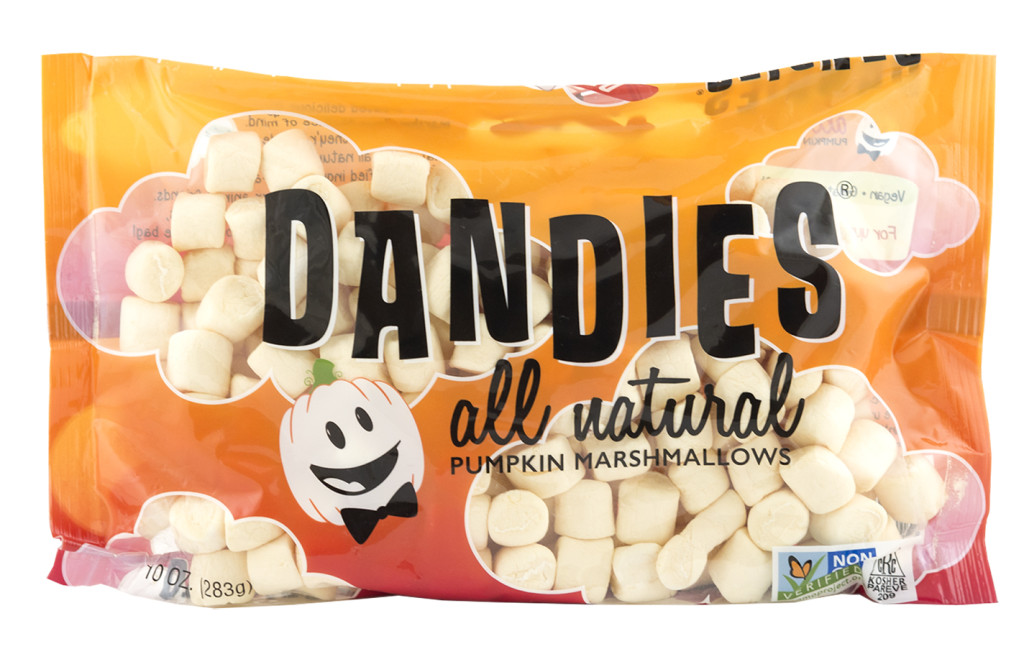 Dandies Pumpkin Spice Marshmallows
We were so stoked about these new additions to Dandies' line that we wrote about them wayyyy back in July! The season for spice has finally arrived, and these marshmallows are hitting store shelves starting in October. You can snag them at Whole Foods and other specialty grocers (or online).
Califia Farms Pumpkin Spice Latte
Sadly, Starbucks' PSL isn't an option for vegan eaters, but Califia Farms has it covered. The company created a pre-made pumpkin spice latte in a bottle, and it's available in Whole Foods Markets, as well as Safeway, Albertsons, Fairway, Lucky's, and Fresh Direct.
Sweet & Sara's Pumpkin Spice S'mores
If you're less about the s'mores assembly process and more about the eating part, Sweet & Sara's already put-together treats are the perfect choice. The company's vegan pumpkin marshmallows (made with the real stuff) are layered with graham cracker and topped with dark chocolate, and they're available online.
So Delicious Pumpkin Spice Coconut Milk
Like autumnal eggnog, this pumpkin spice beverage is the perfect way to celebrate your love for all things fall. Add it to coffee, bake it into cupcakes, or just drink it straight. Either way, it's a vegan pumpkin palate pleaser, and you can find it at select retailers that carry So Delicious (check out the online search tool).
Kite Hill's Pumpkin Tart
This limited edition dessert is hitting store shelves in October. The artisanal, almond milk company keep branching out with new items (yogurt, anyone?), and this year, that includes a pumpkin dessert, perfect for a cruelty-free Thanksgiving. Like lots of yummy things, the tarts are available exclusively at Whole Foods.
Follow Latest Vegan News on Facebook, on Twitter @LatestVeganNews, and Google+ , and sign up to receive our daily headlines in your inbox here.