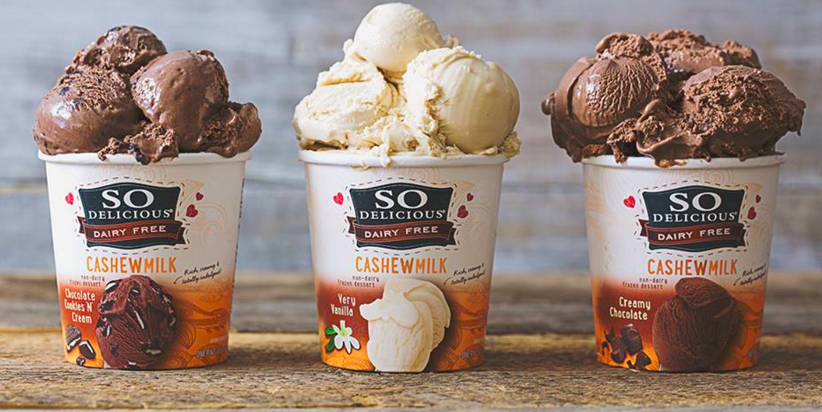 From Ben & Jerry's to Blue Bunny, all the big brands are getting in on the non-dairy ice cream action. So Delicious Dairy Free, however, isn't new to the game. The company has long been leading the pack when it comes to vegan treats, and now the brand is releasing three new flavors of its wildly creamy cashew milk dessert.
The new flavors are creamy chocolate, very vanilla and chocolate cookies 'n' cream, and they're currently rolling out to stores nationwide, the company reported on its Instagram and Facebook accounts. The brand's cashew milk ice cream is widely considered the best frozen treat on the market.
"We have had very positive feedback from fans on our cashewmilk line of frozen dessert pints," Meghan Disch, brand manager for So Delicious, told Latest Vegan News. "We originally launched five flavors that had fun inclusions and heard from fans that they were interested in some simple and delicious flavors that would be ideal to top pies, cobblers or even just an empty bowl. So, we felt the time was right for creamy chocolate, very vanilla and a gluten-free chocolate cookies n cream."
These three new additions join the current flavors: cappuccino, creamy cashew, dark chocolate truffle, salted caramel cluster, and snickerdoodle. For several months, the salted caramel flavor has been hard to find, but the company reports that it's coming back to store shelves. Apparently, its popularity was underestimated.
"We are so excited that our fans are enjoying this line! We sold out of our salted caramel cluster flavor quickly and are really excited that we will be bringing that back to store shelves in a few weeks," Disch adds.
The company also offers almond, soy, and coconut frozen desserts, plus non-dairy milks, yogurt alternatives, and the world's greatest-ever whipped cream.
So Delicious frozen desserts are available at national retailers including Whole Foods, Walmart, Ingles, Earth Fare, and many more. The new flavors are expected to be available towards the end of March, early April.
Follow Latest Vegan News on Facebook, on Twitter @LatestVeganNews, and Google+ , and sign up to receive our daily headlines in your inbox here.