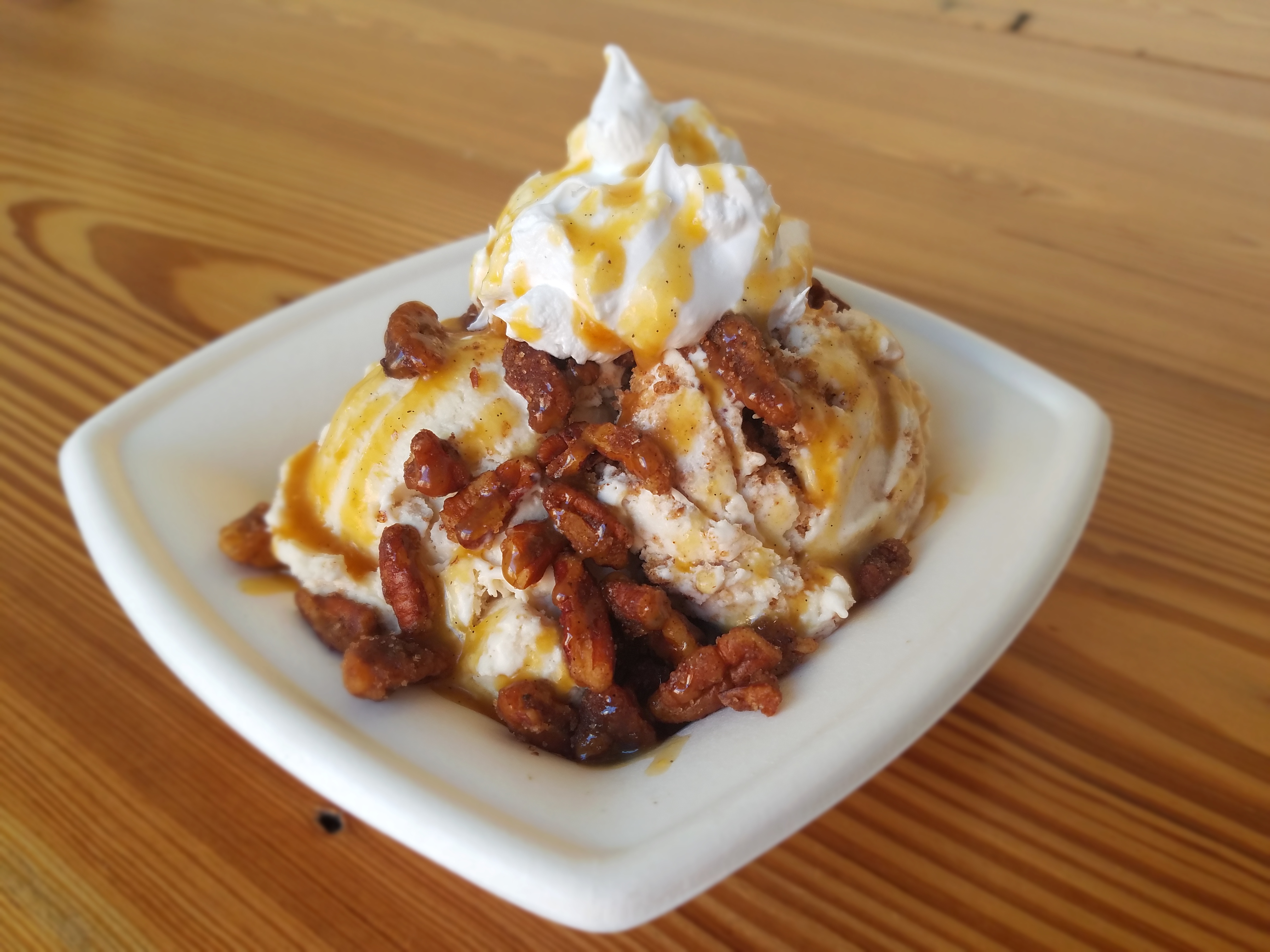 Milk may be a key ingredient in ice cream, but who says it has to come from cows? Not the folks at FoMu, a Boston-based, family-owned chain that specializes in decadent treats made with coconut milk.
From salted caramel to apple cider donut to avocado to cookies & nog — FoMu's ice cream flavors are incredibly creative and impossibly creamy. The extensive menu also includes vegan baked goods like whoopie pies, cinnamon rolls, brownies, cakes, and more.
FoMu has three permanent locations, and frequently hosts pop-ups. The first storefront opened in 2012. Owners Deena Jalal and her husband Hin Tang had corporate jobs, and wanted out. "I made a list of everything I loved in life, and on that list was ice cream," Jalal explains. "I have no food background but it seemed like one of those things that made me happy and made other people happy and I was like, ok I'm going to do this."
The couple didn't feel right about the way dairy ice cream was made, however, so they started thinking about how they could create a better version.
"We started testing out alternative bases and coconut milk is just magical," explains Jalal. "It's just so naturally creamy and floral. We started making ice cream with it and we were like, wow, this is even better than regular ice cream."
All of the ingredients used are fresh, high quality, and locally sourced — and it shows in the final products. From black sesame seeds to tea matcha to parsnips (seriously), the flavor variety is often inspired by local chefs and producers.
And while all of FoMu's ice creams and baked goods are 100 percent vegan, the stores attract an audience of all kinds. "We have an awesome diversity of different customers that come through the door," says Jalal. "At the end of the day it's anyone who cares about food; you could have an allergy, you could have a dietary preference, a religious backing, a social standpoint, or you could just care about what you're putting in your body."
Thus far FoMu sells at its brick and mortar locations, online, and at Whole Foods in the Boston area. But luckily for ice cream lovers nationwide, the future is wide open for expansion.
"We'd love to expand a little more in Boston and the greater Boston area and then we'll probably think about putting a location closer to another major city, be it New York or Philly or Washington, D.C. Maybe we'll have some key locations outside of Boston, then get into some distribution a little further."
Follow Latest Vegan News on Facebook, on Instagram and Twitter at @LatestVeganNews, and Google+ , and sign up to receive our daily headlines in your inbox here.