Back in February, New York's venerated vegan food truck, the Cinnamon Snail, reportedly closed. It was widely broadcast that the popular mobile eatery was done, thanks to NYC's onerous permitting restrictions.
As it turns out, the closure announcements were a bit premature. The Cinnamon Snail is still on the road, and people in the NY/NJ area can get their fill of maple almond bacon donuts on a weekly basis—if they know where to look.
"The issue with not being able to get a new permit for our truck in the city really just means that we can't be on the street on a regular basis, like just showing up where people want," Chef Adam Sobel tells LatestVeganNews.com. "There are some temporary permits that allow us to do one-off events."
Plus, the permitting issues don't affect the truck's operation in New Jersey, so they'll be at the Red Bank Farmer's Market every Sunday, says Sobel, in addition to veg fests, monthly vegan shop-ups in Brooklyn and other hand-picked events. Sobel also does catering (have you seen his cakes?!) which keeps him occupied.
"Pretty much since we stopped running on an everyday daily basis, every time we do operate it's completely insanely busy," he says of the Snail's ongoing popularity.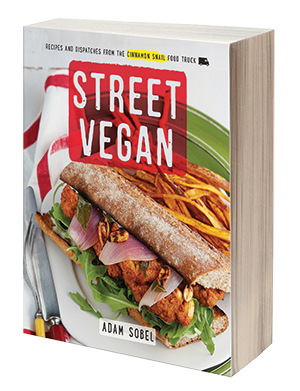 Today is also the official release date for Sobel's cookbook, Vegan Street: Recipes and Dispatches from the Cinnamon Snail Food Truck. It features lots of stories from the food truck front, plus 150 recipes including maple mustard breakfast seitan strips, jalapeño corn chowder, pan-fried kimchi dumplings with fiery miso sauce and lots more.
With the cookbook in stores and the snail on the road, Sobel is considering his next move.
"This is nice being able to run the truck every once in awhile like this, but I'd really like to be able to get back into something where we can serve a large number of people who would otherwise not be eating this kind of food every day," he says. "I have some really good ideas, I just have to figure out what's going to be the best."
Tonight, Sobel will appear at the Powerhouse Arena in Brooklyn, where he'll talk about the book (which you can purchase online). Plus, the truck will be outside serving food from 6 to 9 p.m. Come hungry, Snailers. (To stay abreast of the Cinnamon Snail's whereabouts, follow them on Facebook, Twitter and Instagram.)
Follow Latest Vegan News on Facebook, on Twitter @LatestVeganNews, and Google+ .