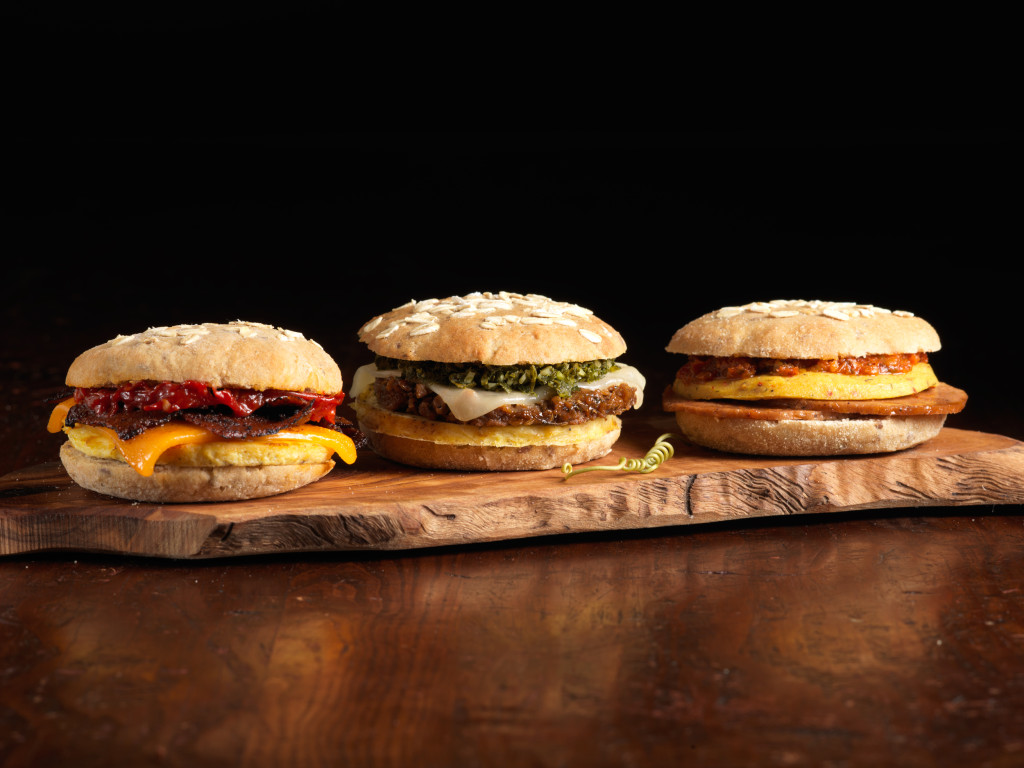 For vegan eaters who aren't into green juice or acai bowls, breakfast can be the most challenging meal of the day. Where's the convenience? The variety? The satisfaction?
Sweet Earth Natural Foods, however, has been re-thinking the morning meal. They recently released a plant-based probiotic breakfast burrito, and as of October 1st, they're rolling out a new line of breakfast sandwiches at Whole Foods — one of which is vegan.
"We wanted to offer a fully vegan breakfast sandwich from the start of our design process because we know that plant-based, sustainable food can be more delicious and nutritious than traditional breakfast offerings today; consumers just need convenient,  affordable options," Kelly Swette, Sweet Earth's CEO and founder, tells Latest Vegan News.
The vegan sammie (officially dubbed the Farmstand Flaxbread™ Vegan Breakfast Sandwich) features the company's Benevolent Bacon, a spicy chickpea patty (resembling an egg) and a sun-dried tomato spread. The whole wheat bread is made with oats, oat bran, and flaxseed, and has 14.5g of whole grains per serving. The entire sandwich has 14g of protein and 6g of fiber.
The "egg" patty is the company's own unique creation.
"I knew that chickpea flour, aka, gram flour or Besan flour is used in India in nutritious breakfast patties or coatings," says Swette.  "That would serve as our base, but why not make it a little spicy to kick-up one's metabolism in the morning, like adding cayenne pepper to your lemon water? That was the genesis of the design and then we experimented with onion and other spices to get a flavor that was better than egg with a texture and color that was familiar – to encourage trial and ease acceptance for less experimental eaters."
Hungry yet? You can snag the sandwiches at your local Whole Foods as of October 1st.
Follow Latest Vegan News on Facebook, on Twitter @LatestVeganNews, and Google+ , and sign up to receive our daily headlines in your inbox here.