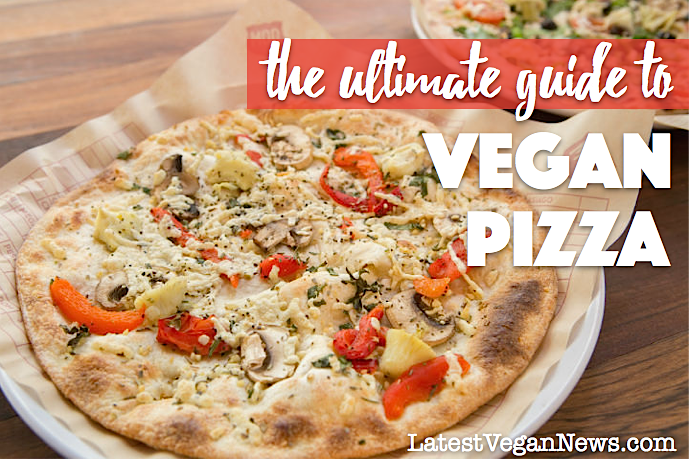 Everyone knows pizza is life, and vegan pizza LITERALLY is life — since no animals have to die to create the deliciousness. It's all of the cheesy, melty, doughy goodness, with none of the suffering. What could possibly be better than that?!
And while there are a lot of mainstream chains that can veganize a pizza by leaving off the cheese — we think that's a little lame. This particular guide is all about the vegan cheese (aka Gary), because honestly, what's pizza without cheese?!
So if you rock pizza pajamas, are obsessed with topping options, and dream about adopting pizza rat (if only he were vegan!) — this is the guide for you. Oh, and if you love 'za as much as we do, join us on Facebook where we celebrate all things vegan pizza.
(To jump ahead to any particular section, just click the links below.)
---

Lucky for convenience eaters, vegan pizzas have entered a Renaissance in recent years. Vegan and traditional companies alike have released a wealth of plant-based pizza options for the freezer case, and many are even available at mainstream retailers like Target. Here are all the frozen vegan pizzas currently on the market:
Daiya | Tofurky | Amy's Kitchen | American Flatbread | Bold Organics | Whole Foods Market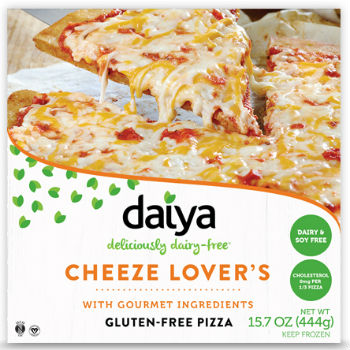 Daiya
The dairy-free cheese company now offers six varieties of pizza pie. These include supreme (with Beyond Meat sausage and veggies), spinach and mushroom, cheeze lover's, margherita, fire-roasted vegetable, mushroom and roasted garlic, and now — pepperoni! All are delightfully cheesy — and gluten-free, too. Daiya insiders recommend pairing the different pizzas with the company's new salad dressings; they come in homestyle ranch, blue cheese, and creamy Caesar.
Click here for store locator.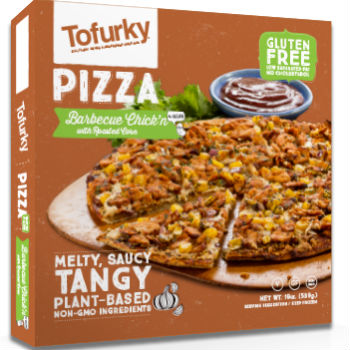 Tofurky
While the company is known primarily for its meatless meats, its rebranding included the launch of a bunch of additional products including pockets, veggie burgers — and new pizzas. The gluten-free offerings include a pesto supreme, a barbecue chick'n with roasted corn, and a pepp'roni and mushroom (with smoked vegan gouda).
Click here for store locator.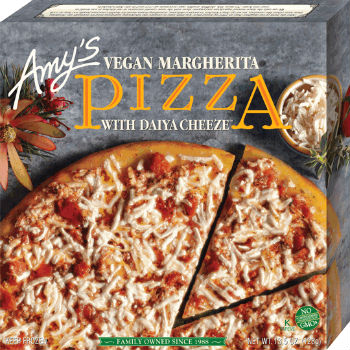 Amy's Kitchen
In addition to being the genius folks behind Amy's Drive-Thru (can they expand out of California already?!), Amy's Kitchen makes a lengthy list of frozen foods (half of which are vegan), including a variety of pizzas. While most are vegetarian, several are vegan. The options include a pesto pizza with rice crust, a single-serve cheeze pizza with rice crust, and a vegan margherita pizza with Daiya.
Click here for store locator.

American Flatbread Vegan Harvest
This traditional pizza/flatbread company makes one vegan variety — the Vegan Harvest. It features a wheat crust, dairy-free cheese, and garlic and herbs. "We created the product based on customer requests,"Brad Sterl, CEO of Rustic Crust, told Latest Vegan News. "The response has been wonderful. We get comments every week about how the vegan community really enjoys our vegan pizza over many of the other options."
Click here for store locator.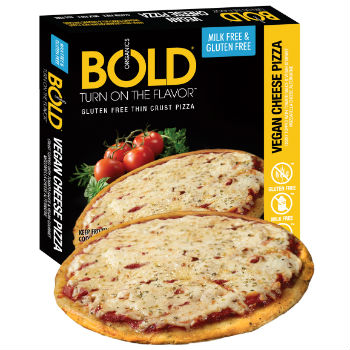 Bold Organics
Another omnivorous pizza company, Bold's lineup includes a vegan cheese pizza that's also gluten-free.

Whole Foods Market
The gourmet chain's 365 Everyday Value® brand offers its own personal size vegan pizza. It's topped with olives, tomatoes, and Daiya cheese.
Click here for store locator.
---

As we reported earlier this year, vegan cheese is available at more than 20,000 eateries nationwide, and many of those places are pizzerias. Here are all of the national (meaning, they span a multitude of states) chains that offer vegan pizza with cheese as an option:
Mellow Mushroom | Uncle Maddio's | Blaze Pizza | Pieology | Pie Five | PizzaRev | Two Boots | MOD Pizza | Extreme Pizza | &pizza | Patxi's Pizza | Your Pie | Brixx Pizza
Mellow Mushroom
This fast-growing, hippie-inspired chain has been around way longer than most of the other vegan-friendly options on this list. With 180 locations in 21 states (though more heavily concentrated in the south), this popular spot has a ton of vegan options. In addition to vegan crust (when ordered sans butter and cheese), they have vegan sauce, Daiya cheese, and even tofu and tempeh. And it's not just the pizza that's vegan-friendly. They can make vegan calzones and hoagies, too. Some locations even have a separate vegan menu (and the menu is accessible online). And, if you're into chewy, doughy crust over the thinner styles — this is your jam. Currently, Mellow Mushroom has locations in Arizona, Utah, Colorado, Texas, Arkansas, Nebraska, Iowa, Missouri, Indiana, Ohio, Virginia, Maryland, Washington, D.C., New Jersey, Georgia, Mississippi, Louisiana, Alabama, Florida, South Carolina, North Carolina, Tennessee, and Kentucky.
Click here for location finder.

Uncle Maddio's
Both the gluten-free and whole wheat crusts are vegan at this fast-fired pizza spot, and you can choose from a lengthy list of veg-friendly topping and sauce options. There's Daiya cheese, tomato basil sauce, garlic-infused olive oil, BBQ sauce, buffalo sauce, grilled tofu, black bean corn salsa, almonds, walnuts, fresh herbs, grapes, raspberry vinaigrette, balsamic vinaigrette — and all of the fresh veggies, of course. Uncle Maddio's has locations in Georgia, Florida, Alabama, Texas, Colorado, North Dakota, Nebraska, North Carolina, South Carolina, Arkansas, Pennsylvania, Virginia, New Jersey and Tennessee.
Click here for location finder.
Blaze Pizza
At this widespread pizza chain (co-owned by NBA superstar Lebron James), both the standard and gluten-free crusts are vegan-friendly. Safe sauces include the classic red, spicy red, and BBQ — and there are plenty of veggie (and fruit!) topping options. Blaze has locations in California, Arizona, Nevada, Colorado, Utah, Idaho, Washington, Iowa, Minnesota, Arkansas, Oklahoma, Illinois, Michigan, Ohio, Kentucky, Tennessee, North Carolina, South Carolina, Virginia, Maryland, Massachusetts, New York, Connecticut, Florida, Texas, and Louisiana.
Click here for location finder.
Pieology
This personalized pizza spot has started popping up all over the U.S., with 117 locations from coast to coast. Pieology's wheat and gluten-free crusts are vegan, as is the Daiya cheese, and there are a ton of safe topping options, from basil to black olives to artichokes to BBQ sauce. Pieology has locations in 21 states including Alabama, Arizona, Arkansas, California, Colorado, Florida, Georgia, Guam, Hawaii, Indiana, Kentucky, Maryland, Michigan, Minnesota, Missouri, Nevada, North Carolina, Ohio, Oregon, South Carolina, Tennessee, and Texas.
Click here for location finder.
Pie Five
The made-from-scratch pies at this popular chain come in an array of vegan combos. In addition to the Daiya vegan cheese, the gluten-free and crispy thin crusts are vegan, as are the tuscan marinara, spicy Sriracha marinara, bbq, and olive oil sauces — plus tons of fruit and veggie toppings. Pie Five has locations in Colorado, Texas, Oklahoma, Kansas, Nebraska, Arkansas, Missouri, Idaho, Illinois, Kentucky, Tennessee, Mississippi, Alabama, Florida, Georgia, North Carolina, Virginia, Indiana, Maryland, and Delaware.
Click here for location finder.
PizzaRev
PizzaRev is all about promoting its vegan pies, even celebrating National Pizza Month! At this spot, vegan eaters can have the signature thin, double dough, and gluten-free crusts; the organic tomato, spicy organic tomato, spicy, and bold BBQ sauces; Daiya cheese; and more than a dozen vegan fruit and veggie toppings, plus vegan sausage! PizzaRev has locations in California, Colorado, Massachusetts, Minnesota, Nevada, New York, Ohio, South Dakota, Tennessee, Texas, Utah, and Mexico.
Click here for location finder.
Two Boots
This ever-growing chain is big on vegan pie, and Daiya cheese can be subbed out on any of its creative choices. The V for Vegan is its signature plant-based option, and features artichokes, red onions, shiitake mushrooms, sweet red pepper pesto, basil pesto and Daiya cheese. As an added bonus, the chain also recently added vegan ricotta as an option, so guests can double up on the cruelty-free cheese. Two Boots has locations in New York, California, Maryland, Connecticut, and Tennessee.
Click here for location finder.
MOD Pizza
At MOD Pizza, the crust is vegan, Daiya cheese is always an option, and the red sauce (newly formulated!), BBQ sauce, and garlic rubs are all vegan. Plus, there are plenty of fruits and veggies to choose from. MOD Pizza has locations in Arizona, California, Colorado, Idaho, Illinois, Kansas, Kentucky, Maryland, Michigan, Missouri, North Carolina, New Jersey, Ohio, Oregon, Pennsylvania, South Carolina, Texas, Virginia, Washington, and Wisconsin.
Click here for location finder.
Extreme Pizza
This amazingly awesome create-your-own-pizza place has tons of vegan options, including five signature vegan pies like the Pandora's Box, the Drag It Through the Garden, the Bunny Slope, and more. If you're into making your own pie, you can choose from a variety of sauces, spices, fruits, and fresh veggies. Extreme Pizza has locations in California, Colorado, Delaware, Florida, Idaho, Michigan, New Jersey, Oregon, South Carolina, and Virginia.
Click here for location finder.
&pizza
This eatery is all about the DMV — and P. In other words, it has locations in Washington, D.C.; Maryland, Virginia — and Pennsylvania, and it's quickly become a favorite for capitol area eaters. Vegan ingredients are also marked on the menu, which makes it easy as pie (ha) to order. Options include the traditional and ancient grains doughs, spicy and classic tomato sauces, vegan cheese, and a whole host of fruits and veggies. Plus, vegan beef!
Click here for location finder.
Patxi's Pizza
At Patxi's, the homemade sauce and five kinds of crust (Chicago-style, cornmeal pan, 00 thin, whole wheat, and gluten-free) are all vegan-friendly. They've got Daiya cheese and 20 different plant-based topping options. Deep dish vegan pie FTW! Patxi's has locations in Colorado, California, and Washington.
Click here for location finder.
Your Pie
Your Pie is all about personalization — and catering to different dietary needs. So, the chain offers Daiya vegan cheese and 40 other non-dairy options, including vegan paninis and and non-dairy sorbet. Your Pie has locations in Georgia, South Carolina, Texas, California, Arizona, Virginia, Maryland, Florida, Oklahoma, Missouri, and Colorado.
Click here for location finder.
Brixx Pizza
This wood-fired chain has lots of locations east of Arizona, and serves up vegan cheese as an option on all of its pizzas, salads and sandwiches. The traditional and whole wheat doughs are made with turbinado sugar and are 100% vegan, and the chain offers plenty of specialty pies that can be veganized — or you can make your own. Brixx Pizza has locations in Virginia, Ohio, Illinois, Indiana, Colorado, Tennessee, North Carolina, South Carolina, Georgia, Virginia, and Florida.
Click here for location finder.
Coal Fire Pizza
This Maryland and Virginia-based chain is committed to artisan-style pizza. The eight locations feature homemade dough (the gluten-free option is vegan!), endless combos of veggies, and now — vegan cheese! The classic sauce is vegan, so you can make-your-own creation.
---

There are a million-and-one vegan pizza recipes on the internet, but how many of them are actually awesome? It's a lot of work weeding out the delicious from the not-so-hot. So, we put nose to the grindstone for you. Here are the best of the best concoctions out there — because no one wants to waste time on a cooking fail (although, like some other things we might mention, even bad pizza is pretty good).
Pizza Cheese Recipes You Can Make in 15 Minutes or Less: Gooey Mozzarella | 5-Minute Vegan Pizza Cheese | Homemade Mozz
Specialty Pizza Pie Recipes: Pizza with Homemade Mozzarella | Buffalo Chicken Pizza | Mushroom and Kale Pizza with Truffle Oil | Cheeseburger Pizza | Thai Chicken Pizza | Jarlsberg and Mock Prosciutto Pizza 
Think making vegan cheese at home is too hard? Think again! If you're a DIY'er who loves the cheesy stuff, this recipe will give you life. Dreamed up by Sam at ItDoesntTasteLikeChicken.com, the ooey-gooey cashew-based mozzarella is perfect for putting on pizzas.
Adapted from the mozzarella recipe above, this incredibly easy, cashew-based cheese requires just five minutes of cooking time — though cashews need to be soaked (or boiled!) in advance. It's made specifically for spreading on pizzas, and has a delightful (optional) tang thanks to pepperoncini liquid. It's wise to keep the ingredients on hand for those last-minute vegan pizza nights!
This recipe uses Miyoko's meltable mozzarella, and according to Vegan Fattyboombalatty: "Miyoko's meltable mozzarella was the closest thing to stretchy, delicious, real mozzarella I've ever tasted." We would have to agree. The initial cheese culture does have to sit eight to 24 hours in advance, but the cooking/prep process itself takes less than 10 minutes and the end result is amazing. (As a dipping sauce for your pizza and crust, we recommend Wayfare's Nacho Cheddar Cheese, the Gentle Chef's Golden Cheddar Sauce, or Hampton Creek's Just Sweet Mustard.)
Now, here are some specialty pies that'll impress any eater, be they vegan, omnivore, or meat-obsessed.
Vegan buffalo chicken pizza may sound like an oxymoron of the wildest kind, but it's entirely doable — and delicious. The Viet Vegan's recipe uses vegan chicken (we recommend Gardein or Beyond Meat), Frank's Red Hot sauce, vegan butter, and a handful of other easily obtainable goodies. The end result is spicy, meaty, and delightful.
If you haven't tried it, truffle oil on pizza is basically the best thing ever. EVER. Especially when mushrooms are involved. The Vegan Miss' version uses crimini and shitake mushrooms, plus dinosaur kale, red onion, and white truffle oil to create this amazing, savory pie. (FYI, Mellow Mushroom also makes a mushroom-and-truffle-oil pizza — the Holy Shitake — that can easily be veganized.)
Cheeseburger pizza may sound totally weird, but the concept is surprisingly awesome and crowd-pleasing for kids and adults of all dietary persuasions. Seitan Beats Your Meat has a fabulous take on the idea, complete with all the ingredients that make for an amazing (vegan) cheeseburger — only pizzafied and even more delicious. You could also try The Comforting Vegan's version, or That Was Vegan's bacon-topped approach!
There's something about the combo of peanut sauce and "chicken" that makes magic. This particular version is made with soy curls, and was inspired by a (non-vegan) Rachel Ray recipe. That Was Vegan calls it "the best pizza I've ever made" — and we second that assertion. The list of ingredients is rather lengthy, but every item is worth it. End result = spicy, sweet, and endlessly satisfying.

Jarlsberg and Mock Prosciutto Pizza
If you haven't heard of The Gentle Chef, you're missing out. He's the master of homemade meat, dairy, and egg substitutes, and his creations are nothing short of magical.
Ideal for pizza, his cheese recipes are quick, delicious, and melt like the real thing. The pizza pictured uses his Jarlsberg cheese melt (which takes five minutes to make) and mock prosciutto crudo. His cheese recipes are available only in his Non-Dairy Evolution Cookbook (if you're into cheese, it's well worth buying), but you can find the prosciutto recipe on his blog.
There are also a lot of other amazing block and wheel cheeses in the Non-Dairy Evolution Cookbook (including a smoked mozzarella) that shred and melt wonderfully on pizza. For inspiration and more instruction, join The Gentle Chef's FB group and search "pizza."
While there's no specific recipe for the rest of the Jarlsberg and Mock Prosciutto pizza, the process is simple: pour tomato sauce onto a crust, top with dollops of jarlsberg, prosciutto crudo roses, and fresh basil. Adjust as you see fit. (The original creation was dreamed up by Gentle Chef fan Louise Gagnon.)
Follow Latest Vegan News on Facebook, on Instagram and Twitter at @LatestVeganNews, and Google+ , and sign up to receive our daily headlines in your inbox here.