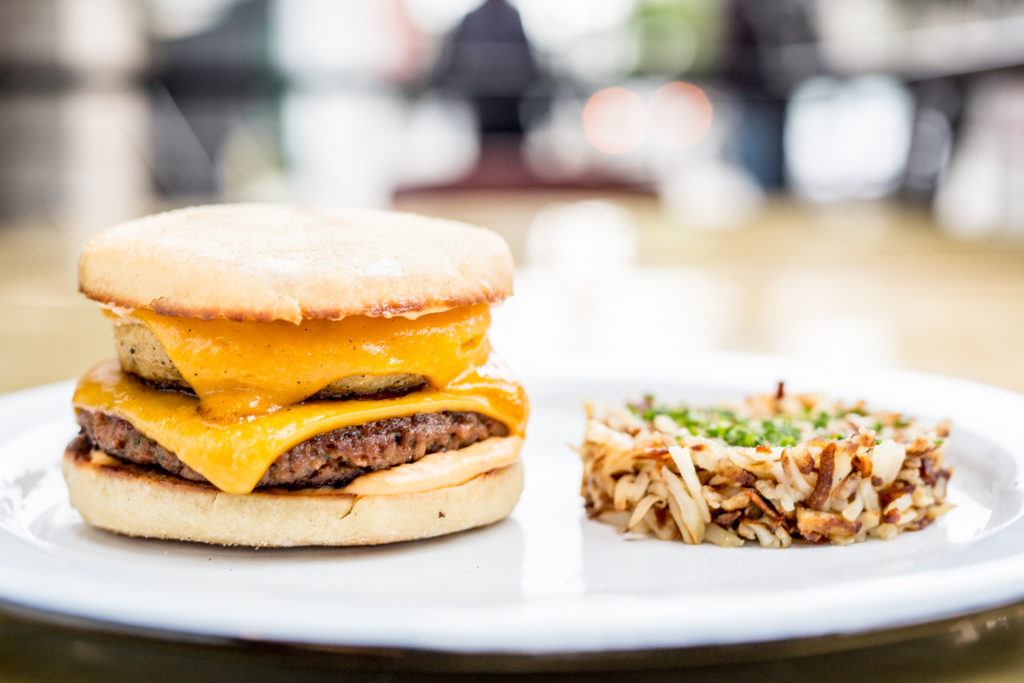 Modern Times Beer's Dankness Dojo in Los Angeles is an edgy, pop culture-inspired spot where beer meets bar food and the end result is a vegan foodie's dream.
This brightly colored, brick-laid eatery offers a menu that's so insanely delicious, the waiters literally have to tell people the place is vegan — just in case anyone accidentally thinks they're eating real animal products.
"Plant-based only has been a part of our values since day one," says a rep from Modern Times. "Our CEO is vegan, so all products – beer, food, coffee or otherwise are and will be 100% vegan."
Employee-owned with a mod nostalgia-inspired vibe, this spot has EVERYTHING, from "bone marrow" to double cheeseburgers to make-your-own ice cream sandwiches to an espresso bar to an array of delicious brews (30 on tap, in fact).
We hit up the location in downtown Los Angeles and it was love at first sight. The brewers also have two locations in San Diego and one in Portland. And they're expanding to three new locations! "Leisuretown in Anaheim, the Far West Lounge in Encinitas, and the Academy of Recreational Sciences in Santa Barbara," the rep says.
The original brewery popped up in San Diego, and now the brews are distributed throughout Southern California, Arizona, Nevada, and the Pacific Northwest.
Seriously, the tasting room menu will blow your mind.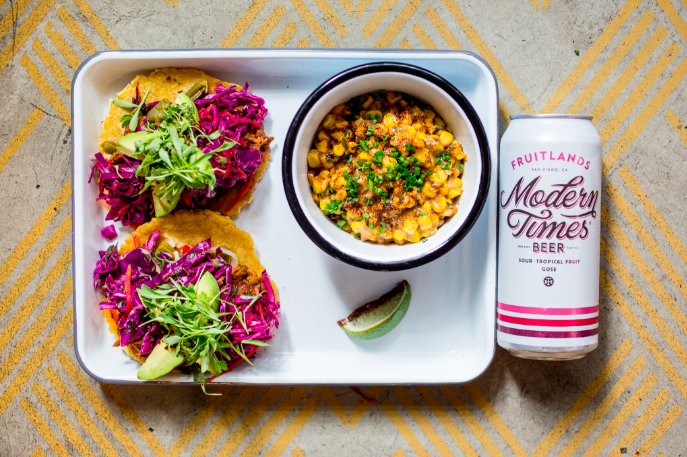 For weekend brunch, the lineup includes Coconut Crepes with cherry cashew cream, berry compote, and strawberry; Stacks on Stacks with sweet corn pancakes, jalapeno butter, corn nut and pepita crumble, and bourbon barrel-aged maple syrup; and a Breakfast Sandwich with the vegan egg, Beyond Meat breakfast sausage, American coconut cheese, spicy mayo, a house-made English muffin, and hash browns. Seriously?!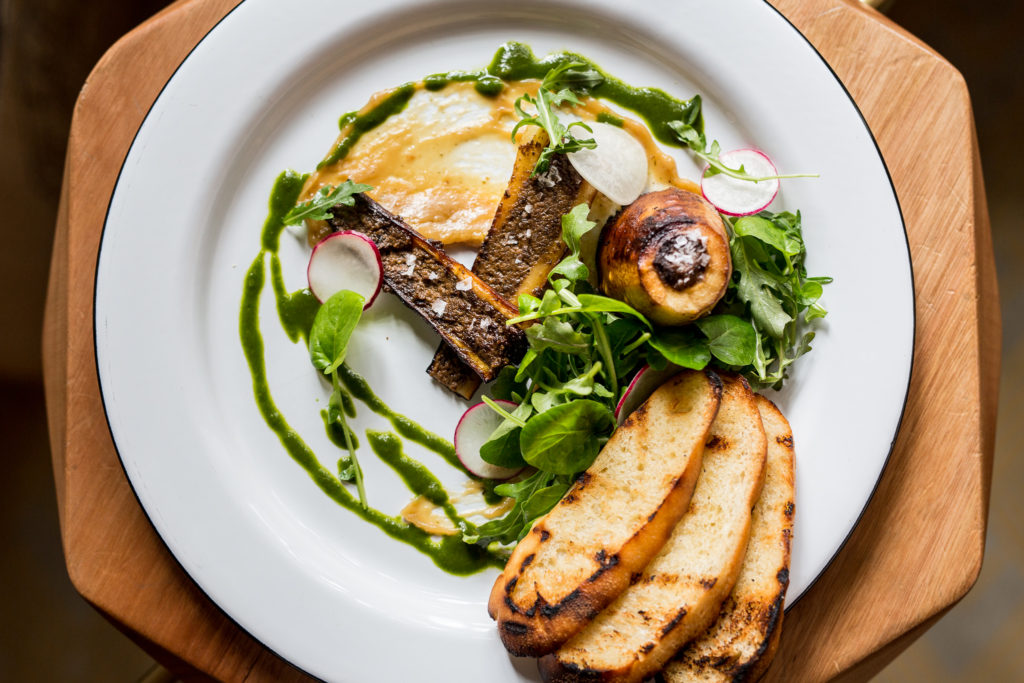 On the regular menu, there's upscale bar fare like the Devils on Horseback with smoked seitan, cashew-cheese stuffed dates, grilled pineapple, and bourbon-barrel aged maple syrup; the Marrow of the Earth with roasted parsnip, mushroom puree, grilled house bread, garlic confit, herb vinaigrette, and spicy greens; the Double Burger with seared Beyond Meat double patty, smoked mushrooms, shallot jam, roasted tomato spread, American coconut cheese, pickles, house-made sesame bun, and pickled onion rings; and Chilaquiles with corn tortilla chips, coconut cheese, chili verde, cashew crema, vegan egg, chili verde braised soy, and avocado.
"The double burger featuring the beyond meat patty has been our best seller," adds the company rep.
For dessert, there are S'mores with barley malt graham crackers, chocolate mousse, and a toasted house-made marshmallow; Affogato with a shot of espresso and a scoop of Van Leeuwan cashew and coconut artisan ice cream; and Strawberry Shortcake with a blueberry biscuit, strawberry compote, candied lemon, and honeycomb ice cream.
Honestly, you'll want to order every single item on the menu. My crew did. And it was — hands down — some of the best vegan food I've ever had the pleasure of putting in my mouth. Oh, and when it comes to the beer, try the Rose Fruitlands fruited sour. Amazing.
Follow Some Vegan Girl on YouTube, Facebook, Instagram, and Twitter for all things plant-based and pop culture.