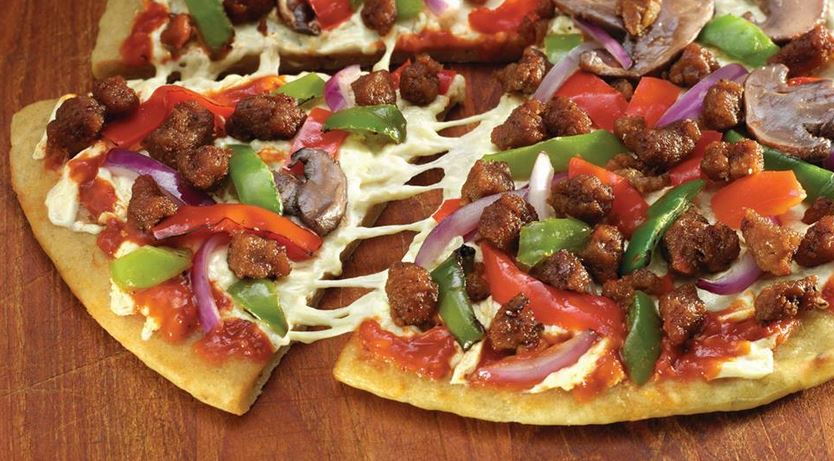 When it comes to non-dairy cheese, Daiya tends to top the list. It's the vegan cheese option most frequently found at restaurant chains, in mainstream supermarkets, and utilized in items made by other brands (Amy's Kitchen pizza, for example).
And, according to the company, its products are now used by approximately 20,000 individual restaurant and chain franchise locations. That's a lot of ooey gooey goodness.
"Food service is our heritage and we started servicing restaurants in 2009," says Chriss Montalbano, the company's North American Business Development Manager.
Companies that work with Daiya products include Aramark, Blaze Pizza, Disney, Citifield, Mellow Mushroom, Pieology, Sodexo, Sysco, U.C. Berkeley, and Uncle Maddio's Pizza Joint, among others. The company just announced its partnership with Pie Five Pizza last week — another fast-fired pie chain. Daiya is working to expand more into traditional food service operations, as well.
For customers who want their favorite eateries to offer Daiya cheese, Montalbano recommends asking for it by name. Consumer requests are key when it comes to getting restaurants to offer it as an option.
And while cheese may be the company's most famous product, it isn't its only game. Daiya also makes pizza, mac and cheese, cheezecakes, cream cheeses, and yogurts — and recently announced the upcoming release of a line of creamy salad dressings.
Follow Latest Vegan News on Facebook, on Twitter @LatestVeganNews, and Google+ , and sign up to receive our daily headlines in your inbox here.