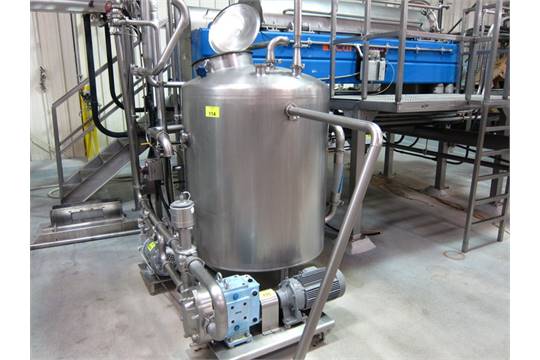 Vegans across the country were collectively bummed out a few months ago when WholeSoy, a popular plant-based yogurt brand, announced it was going under.
Fast forward to now, and, starting Monday, July 6, the company's production assets are going up for auction. So, if you've always dreamed of starting a vegan yogurt company—this is your shot at probiotic-infused greatness.
The company's facility was located in Modesto, California, but luckily the auction is internet-based, so anyone can bid from anywhere (though you'd have to pay a company to transport any purchases).
The assets are described as "Fully automated operation producing highest quality organic soy base, with newly installed packaging addition for 6 oz. & 24 oz. retail products."
According to the folks at Rabin (the auction company), "We have had a lot of interest in the sale and expect a good turnout."
Included in the lineup of items are many things that people outside the yogurt game probably won't recognize, including:
Vibra Screw Inc. bean unloading hopper
Hapman Bear receiving hopper
Pre-soak tank, heat exchanger and pump
Solid waste loadout assembly
Waukesha positive pump
(The facility itself isn't available, but if you wanted to start a yogurt company elsewhere, you could theoretically buy all the equipment and move it to a new locale. Just saying—the world needs as many vegan products as it can get.)
The auction kicks off on Monday, July 6th at 10 a.m. and closes on Thursday, July 9th. You can register online to bid.
Follow Latest Vegan News on Facebook, on Twitter @LatestVeganNews, and Google+ , and sign up to receive our daily headlines in your inbox here.