Ever wanted to eat ALL THE VEGAN THINGS?! You need to take a trip to Vegan Fine Foods, the hottest thing to hit South Florida since the Jersey Shore cast filmed their reunion.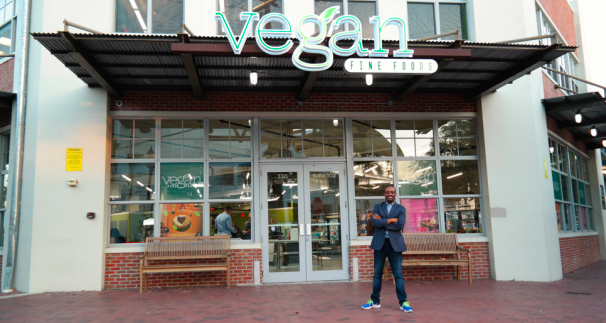 The new all-vegan spot in Fort Lauderdale is a market, eatery, wine bar, coffee shop … basically it has everything you could ever want (or need), all 100% cruelty-free.
It had its soft opening about two weeks ago, and according to staff — everyone is obsessed with the first location. Omnivores included!
The 4,000-square foot market is jam-packed with vegan goodies, from fresh fruits and veggies to vegan cheeses, chips, and everything else you could want to stuff in your face. They also have loads of gluten-free foodstuffs, and even nut-free eats. So literally anyone can find something to love; the store is super inclusive and welcoming, and its motto is "Strictly vegan but not just for vegans." AMEN TO THAT.
Basically, it's the perfect place for vegans to shop worry-free (no need to check labels, yay) while supporting a vegan business — AND it's the ideal spot for omnivores to add more plant-based deliciousness to their diets.
Inika Cafe is Vegan Fine Foods' on-site eatery that serves up all kinds of healthy, vegan comfort food classics. "Everything at Inika Cafe is unbelievably tasty!" a rep for the store told Some Girl's Vegan News. "From the falafel pitas to the wild blueberry muffins, we are proud to serve it all."
"Some of our favorite products sold at the market are definitely Olga Keller's raw vegan cheese and Sun Veg crackers, they are delicious." the rep says. "We couldn't live without Vegan Rob's chips; and PumpHouse Coffee Roasters cold-brew Coconut Draft Latte on tap."
Did we mention they have (dairy-free) PINKBERRY? Be still our foodie hearts.
The concept was created by Florida Atlantic University Professor Steven Smith, a 20-year rock star vegan. He's all about the health benefits of a plant-based diet and saw a huge transformation in his own life after making the change.
"I still enjoy eating vegan meat and cheese alternatives occasionally and we are going to specialize in these types of vegan products, which are great for people transitioning to a more plant based lifestyle, " says Smith in a press release. "People just learning about a vegan diet think vegans eat mainly salads, but nothing could be further from the truth."
The store is having its official grand opening this weekend, so if you're anywhere nearby stop into 330 NW 2nd Street in downtown Ft. Lauderdale on April 20th through 22nd to partake in the festivities (prizes anyone?). Even the mayor will be popping by. Vegan party time!
There are HUGE THINGS ahead for this amazing new brand, so watch this space for juicy deets!
Follow Some Vegan Girl's News on Facebook and Instagram for all things plant-based and pop culture.