Everyone loves a good sausage fest. And when it doesn't involve discarded body parts and unpronounceable additives, even better! 😂
(Sorry old school sausage lovers, but the truth hurts!)
Luckily we're here to help you navigate the grilling bonanza that is Memorial Day weekend with all the vegan sausage you can stuff in your face!
Beyond Sausage
First up, of course, is Beyond Meat's New Beyond Sausage. This stuff is BANANAS. Just like the Beyond Burger, it's a game-changer that'll soon be replacing the pig parts our grandparents used to eat.
If you haven't had these incredible edibles yet, hit up your closest Whole Foods ASAP. Right now, it's the only chain that carries it, but don't worry — that'll change soon.
In the meantime, it's worth a road trip to eat these meaty, succulent links. The sausages come in Brat Original, Sweet Italian, and Hot Italian. Buy them ALL because they'll fly off your grill faster than you can even imagine. (Oh, and Beyond Meat is rolling out breakfast sausages soon, too. 😍
(In some other amazing Beyond Meat news, the company just announced that The Beyond Burger will be rolling out worldwide. More than 13 million of the patties have already been sold, and soon they'll be available in over 50 countries including Germany and the rest of Europe, Canada, Australia, Mexico, Chile, Israel, UAE, Korea, Taiwan and South Africa. BOOM.)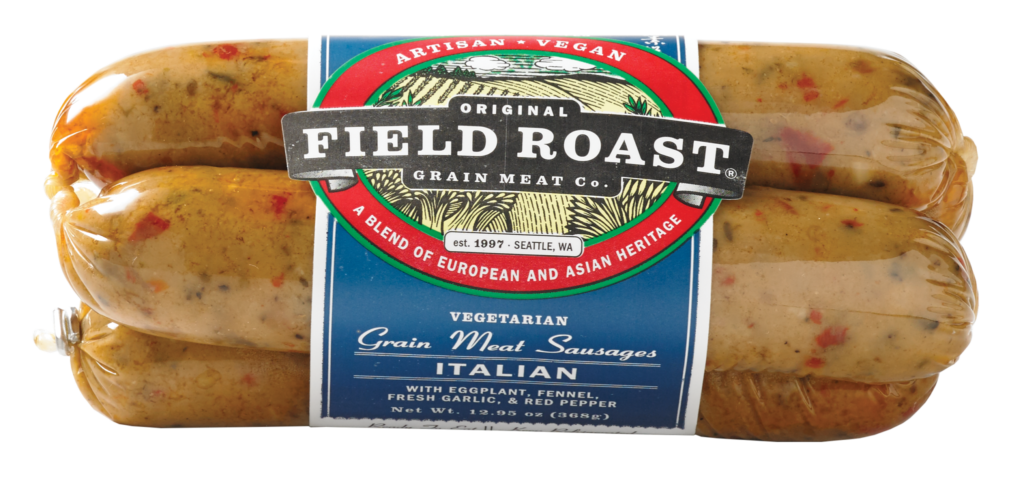 Field Roast Grain Meat Sausage
Another popular sausage option, this Seattle-based company churns out grain meat links that come in some unique flavors and are totally crowd-pleasing — for omnivores and vegans alike.
These come in Italian, Mexican Chipotle, and Smoked Apple Sage. Plus, Apple Maple Breakfast Sausage for your hungover brunch needs! Most grocery stores sell them (check the produce department) and they're also packed with protein (25 grams, hot damn).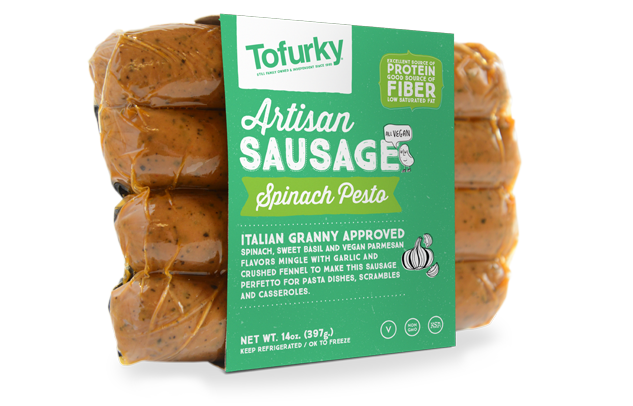 Tofurky Sausage
The most prolific of the sausage options is Tofurky's lineup. The iconic company has a whopping five varieties of sausage available, and they're on the shelves at most chain supermarkets. (Again, check the produce department. Or ask an associate! Don't assume they don't carry them 'cuz sometimes they're hidden.)
These specialty sausages come in some mouthwatering flavor combos including Spinach Pesto, Andouille, Italian, Kielbasa, and Beer Brats. Seriously, that covers all the bases for the sausage lovers in your life. Create a make-your-own sausage bar with every imaginable topping (don't forget sauerkraut y'all) and your party guests will be insanely stoked. (No need to mention that there are no actual pig parts involved.)
There are other vegan sausages on the market, but these three are by far the best options for all you grilling aficionados. And remember to tag us in pics of your vegan sausage fests y'all! 😉 @SomeVeganGirl (Twitter and IG!)
Follow Some Vegan Girl on Facebook, Instagram, and Twitter for all things plant-based and pop culture.